Earn exclusive collectables, badges, and rewards just in time for Turkeytopia!
Hamburg, November 17th, 2021 – gamigo is giving Trove PC players the chance to go to the next level (literally!) with the debut of its Polished Paragon system offering access to exclusive gear, eye-catching craftables, and much more. Best of all, this update comes to PC just in time for its annual Turkeytopia event!
Forge Your Own Ring of Destiny
Starting today, all experience points (XP) earned on Level 30 classes will go towards receiving Paragon levels for that class. While the effort to fill the XP bar for those Paragon levels may be a bit higher than before, the rewards will be worth it. Trovians will earn Loops (Trovian or Primal) that can be used for crafting Signatory Rings. Yes – those are Crystal Level rings! Just like any other Crystal gear, these range from Crystal level 1 to Crystal level 4, but unlike anything else, they can be customized to each class.
Crystal rings aren't the only rewards earned through Trove's Polished Paragon system. Players' efforts may also spawn a Primal Paragon Piñata near them and in their inventory. These piñatas contain anything from ore, flux, Trovian loops up to Paragon's Marks used to craft all-new items at the Paragon Workbench in the Paragon's Palace in the Hub.
New store items will assist players in reaching the pinnacle of Paragon levels: Primal Paragon Cubes and Primal Paragon Piñatas will give a boost toward attaining all those exclusive collectables and badges.
Trovians can craft 5 new allies, 4 new mounts, a new ship and sail, a new banner style, 2 new wings or a decoration box at the Paragon Workbench and make the colorful, eye-catching, and status-creating power of Paragon their own.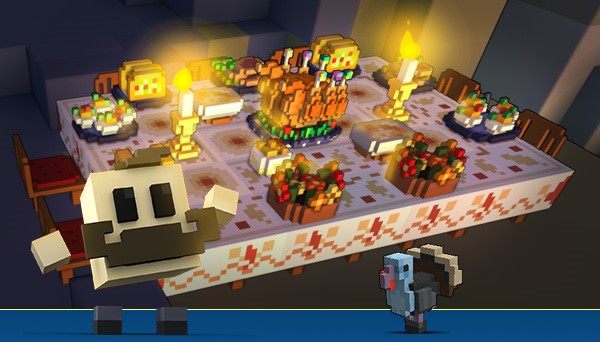 Trove's Terrific Turkeytopia Thing!
Now – let's talk turkey! To celebrate the upcoming holiday season, Trove's Friendsgiving-themed Turkeytopia is launching today on PC, PlayStation, and Xbox. For this year's event, players can partake in a full questline that brings previous NPCs from the events that took place throughout the year to highlight their accomplishments. With so many guests showing up, it's a good thing we're introducing new craftable foods that are stronger than anything currently available and an open buffet table in Trove's main hub. As players unlock characters, a similar item to the crafting material required for them will appear. Featured characters will give daily adventure quests that will reward players with Friendsgiving Coins that can be redeemed for event rewards from the Turkeytopia Workbench, also available at the Wheel of Seasons.
Several previous Turkeytopia invasions have returned and new decorations, collectibles, framework, and Delve Enemies are being introduced. Poppa Cobb and his Cobb Sprouts can be found in the Turkeytopia Delves, but don't CORN-fuse them for simple STALK-ers. They know how to fight, so you MAIZE well POP the CORN.
For more information, please visit the following links:
---
About gamigo group
The gamigo group is one of the leading publishers of online and mobile games in Europe and North America. The group's diverse game portfolio includes free-to-play titles such as Fiesta Online, Trove and Aura Kingdom and mobile games like Fantasy Town and Heroes of Twilight. Counting more than 400 employees, gamigo group is one of the largest players in the gaming industry. Besides its German locations in Hamburg (HQ) and Berlin, the gamigo group also has branches in Austin and Bellevue (US), and in Seoul (South Korea). In addition to gamigo AG, the group includes the subsidiaries gamigo Inc. operating as "WildTangent", gamigo US Inc., gamigo Publishing GmbH, Aeria Games GmbH and KingsIsle Entertainment, Inc. The gamigo group strives to grow organically as well as through acquisitions. Since 2013, it has made more than 25 acquisitions, including titles, gaming and technology companies as well as individual game assets. The gamigo group is part of Media and Games Invest (MGI). Learn more about gamigo group at https://corporate.gamigo.com/. Learn more about MGI at https://mgi-se.com/.